Here we will discuss how to transfer data from internal storage to SD card, so that you can easily free up your device's internal storage and take full advantage of it.
One of the biggest factors in determining the price of a new phone is its storage capacity. As a result, most users prefer to have a smaller storage space in order to enjoy the latest features at a reasonable price to their pocket.
Now, here's the good news. It is easy to move apps from your internal storage to an SD card, and you can get a huge boost from a microSD card for only a few dollars. Let us now take a look at how you can move apps from an Android device's internal storage to an SD card in the simplest way possible.
How to move apps from internal storage to SD card on Android?
The good news is that you can easily move Android apps to SD card from internal storage. Following are a few steps that you need to follow for transferring data from the internal storage of your device to external storage.
To begin, first of all, look for a list of all installed apps under your settings menu.
When you get there, go to the Settings menu, then select the Apps option, and then choose the app you wish to move from internal storage to external storage, i.e. A microSD card.
It will then open a new page for the selected app, where you can see the amount of storage the app is using at the top.
Tap below the 'Change' button once you reach this point.
Next, it will prompt you to select the destination where you want to transfer the data.
After that, hit the 'Move' option.
That's it! After selecting a destination in the previous step, your app will now move to that location. That's right, it's that simple!
Things to keep in mind
In other words, you can repeat the same process in the opposite direction.ection. Therefore, you can always return the app to your internal storage if you want. If you are unable to move apps to an SD card and vice versa, then it may be because your device isn't compatible with this feature.
The SD card can be used for moving some apps, but not all, so you will have to look at each app individually at this time. In my experience, I have noticed that the bloatware and pre-installed apps cannot be moved to an SD card. Please keep this in mind.
Furthermore, it is important to be aware that the file transfer process from the internal storage of a device to an SD card can vary from one brand to another since their user interfaces are different.
Huawei and Honor devices are an exception as they do not allow moving apps from one device to another on a case-by-case basis.  There is also the option of using a File Manager app from the Play Store. There is a File Manager application installed in almost every Android handset, so we have downloaded one from the Play Store and discussed it in this article.
How to move data to the SD Card?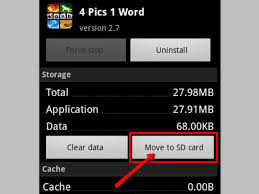 Here are a few steps about using the free File Manager App to move data or files from internal storage to an external storage device. Take a look:
Choose the Storage tab from the top-right hand corner of the screen. Here you can see the different storage options available on your phone.
We'll select the file:///sdcard/ option, which represents the internal storage of our device.
On the other hand, the sdcard option represents the external storage, i.e. the microSD card or memory card inserted into our device.
Let us consider that we want to transfer photos.
To begin, tap the SDcard0 folder. Navigate to the DCIM folder.
The next step is to choose Camera. Then, you will find the image files that were taken by your camera.
Click the three dots at the bottom right corner of your screen, then choose Multi-select.
Lastly, select the items which you want to move to your SD card.
The yellow text appears when the white text is selected. Choose the Move option next, which will take you to the Browse to microSD card section, and finally choose the Move here option.
Definitely! We have successfully moved your files from internal storage to SD card, i.e. external storage.
You can repeat the process for any media file on your device in the same way.
Thanks for reading this article. I hope it helped you. We will keep you updated! In the comments section below, feel free to ask any questions you may have.