YouTube is a popular platform for sharing videos and has the potential to be a lucrative earning medium if used effectively. This article is for you if you are new and looking for ways to grow your YouTube channel. We will look at some tools that can help you increase shares, likes, and other metrics on the platform. These tools vary in price and features; some are app-based, while others offer offline services.
Organic YouTube growth services are companies or individuals that claim to be able to help your YouTube channel grow in popularity without the use of paid advertising or other non-organic methods. These services may offer various tactics or strategies to achieve growth, such as optimizing your video titles and descriptions for SEO, promoting your videos on social media, or collaborating with other creators to cross-promote each other's content.
Some organic YouTube growth services may also offer features such as custom thumbnail design or video editing services to help make your videos more appealing and engaging to viewers. Some may even offer consultation or coaching services to help you understand the best practices for growing your channel and engaging with your audience.
One of the main benefits of organic YouTube growth services is that they can help you build a real and loyal audience for your channel over time, rather than just attracting many views or subscribers through paid advertising or other non-organic methods. This can be especially valuable for businesses or creators who want to build a long-term presence on the platform and establish themselves as thought leaders in their industry.
That being said, it's important to be aware that not all organic YouTube growth services are created equal, and some may not be legitimate or effective. It's important to research and carefully evaluate any service you're considering using to ensure that they offer legitimate, ethical, and effective strategies for growing your channel.
One red flag to watch out for is any service that promises rapid or unrealistic growth in a short period. While it's certainly possible to achieve significant growth on YouTube, it typically requires a lot of hard work and consistent effort over time, and there are no shortcuts or quick fixes. If a service is promising rapid growth or results that seem too good to be true, they are likely using tactics outside of YouTube's terms of service or may not be effective in the long run.
It's also good to read reviews and testimonials from other service users to understand what others have experienced. If a service has mostly negative reviews or many complaints, it's a good idea to look elsewhere.
Ranking Grow
RankingGrow is a leading organic growth YouTube network operator. Ranking Glow is ideal for growing your followers with natural techniques.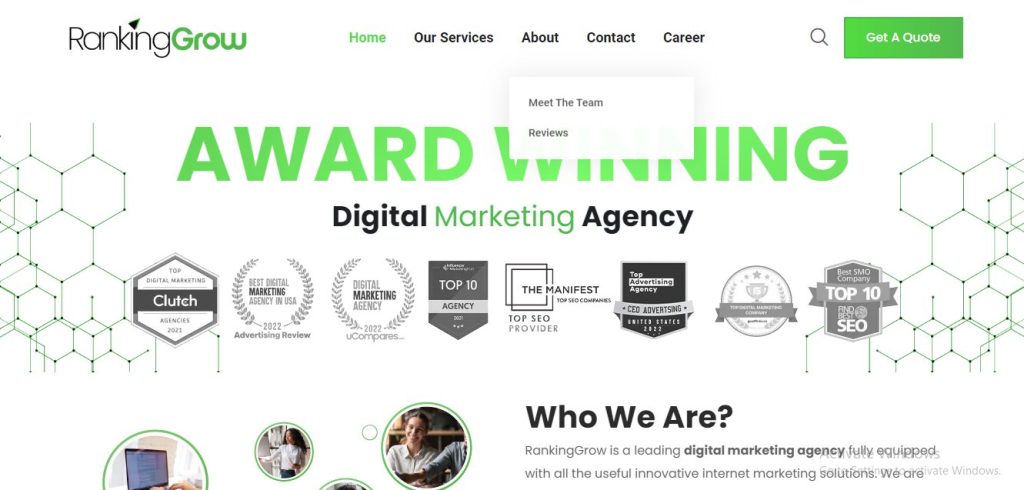 Your goal is to become a YouTube influencer. They ensure you realize your potential. We call our customers!
RankingGrow has distinctive features that set it apart from most YouTube growth services. They ensure you reach your target audience fast! Using our organic services, you can be sure he will complete more than 50% of the work without any worries.
You are direct and regularly connected with your target group. They use new and attractive techniques to make the content attractive and catchy. Unlike rogue bots, it ensures organic, human-powered development by providing an audience to interact with it. They provide organic, human-generated growth on YouTube. They will always provide an audience genuinely interested in your material, so you have nothing to worry about.
The base price for this tool starts at $99.
Cyfe
Cyfe is a management application that helps businesses streamline their operations by combining data from different apps into one dashboard. This provides their users to view data from various sources. In addition, management is greatly simplified.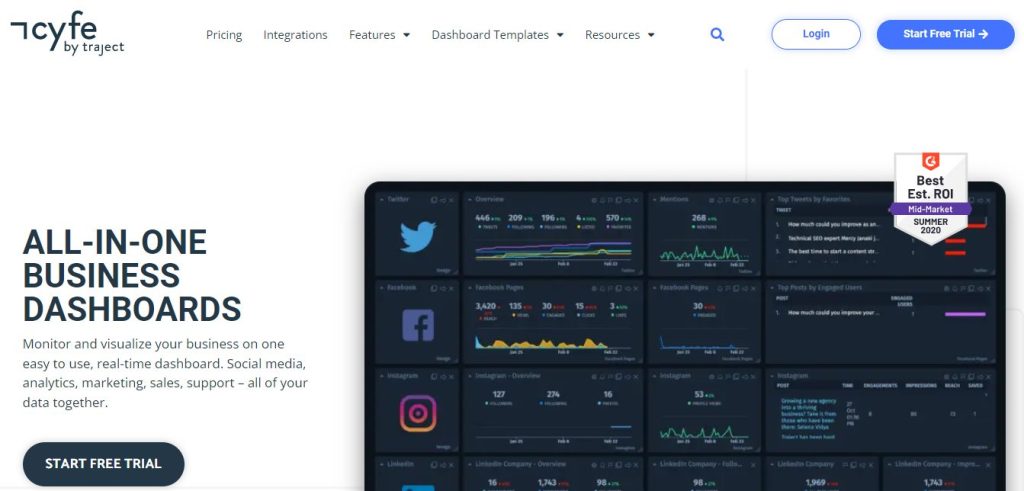 User registration is free. Offers an affordable extended premium version. It's web-based, so it's compatible with Apple devices.
Cyfe app users can view real-time data in a single dashboard. They are not designed specifically for YouTube. Numerous metrics are available. It allows you customization according to your YouTube needs. Set up everything: Google Apps, streaming video subscriptions, apps, messages, and more.
Build dashboards to view data for each department, executive, or all your customers. For full customization and customer service, try our White Label plan.
Cyfe's white-label plans move your agency or business forward with a separate client environment, access controls, and an integrated brand experience. Real-time branding reports help you engage stakeholders and demonstrate value.
The tool has a starting price of $29 and is easy to handle.
Also Read: YouTube to MP4 Converter
AudienceGain
AudienceGain has been around for a while. It looks like you have a track record. Still, there are better costs in the industry. You can choose from several options.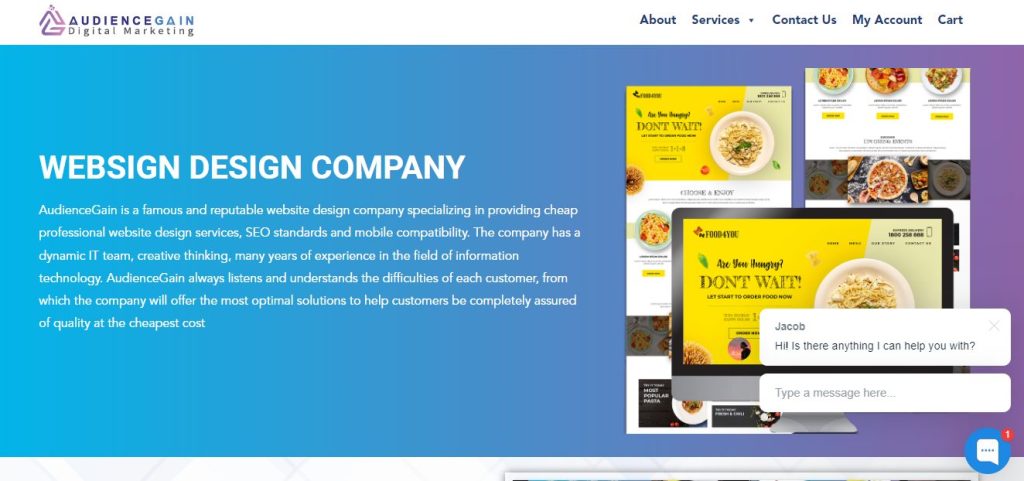 The service has the potential to develop new channels with low audiences and subscribers. This can increase social trust in these channels, leading to more views and followers. Even aspiring musicians can benefit from it to appreciate their music for people just starting to use their channel. You can do this with the help of the platform. Audience Gain delivers what it promises. Instead of leading a rural lifestyle, she uses marketing. This means that every pendant you get is a genuine individual.
Both big and small budget businesses can benefit from her audience gains. Plus, you can't control how often your followers stay on your page. This comes with a starting price of $7.
Nemoviews
Nemoviews is primarily focused on YouTube marketing. Their main priority is YouTube, even though they have other options. This indicates an improvement in how views are generated. The prices are reasonable, and the customer retention rate is high. Finding providers for views or subscribers can be time-consuming.
Nemoviews consistently delivers on what it promises, but sometimes it takes longer. But for those who want views or subscribers but don't have big expenses. This is a thoughtful decision.
You have a great video, but more people should be watching it. You have a challenge, and this is the perfect place to find a solution. This will help you promote your videos to gain a real audience and engagement and be successful.
To ensure the best viewing of their films, they use the best and most efficient marketing strategies, premium networks, and sponsored placements. With well-optimized marketing efforts, they promise views and more. NemoViews has a starting price of $8.49. That's all. 
Considering your budget and specific needs on YouTube, it's important to carefully consider which tool is the best fit for your business. So that was all for this one. See you in our next articles with other helping tools.
Conclusion
Organic YouTube growth services can be useful for creators looking to build a real and loyal audience on the platform. Still, it's important to be cautious and do your research to ensure that you're working with a legitimate and effective service. Want to do something fun? This page lets you know some Best Youtube challenges to do with friends at home.