Playing games on smartphones is fun, exciting, relaxing, and very very much entertaining as always. Do you like to play games on your Android too? Or are you looking for some amazing and easy-to-play 3D arcade ball games to play? If the answers are yes, here I have got some of the best 3D ball games for Android that you can consider trying right now. The games are free to download and play, offline, and I'm pretty sure that you'll love them.
So, let's have a look before we start …
Tower Ball Blast – Free Arcade Stack Ball Game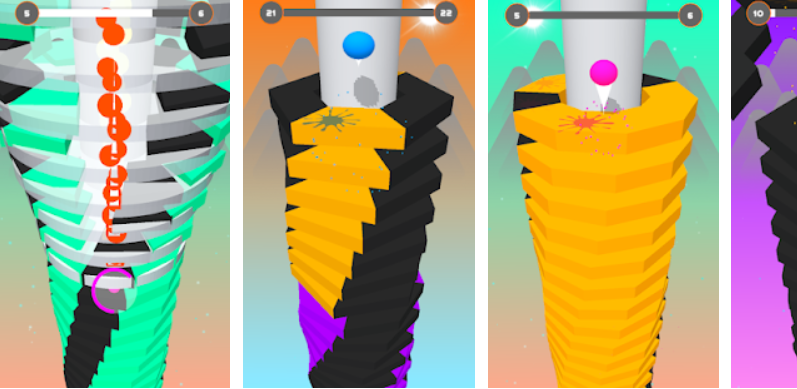 Tower Ball Blast is our first pick on this list. It's a free offline arcade stack ball game with some really fun features and exciting gameplay that you'll love for sure. It gives you refreshment and joy when you are bored or feeling like having some lighthearted fun! If you are looking for a tower ball blast, or ball stack, or ball bounce game, this is one of the most exciting and refreshing games you can play.
The objective of the game is to control a colorful bouncing ball while it's falling and jumping from a 3D tower with colorful alcoves. You need to keep the ball descend through the colorful alcoves, except for avoiding the black ones. If it goes with the black one, the ball will be blasted and the game will be over. So, try to land the ball safely at the bottom of the tower avoiding the black alcoves. Change the ball's direction by tapping the screen — a long tap will make the ball descend through the alcoves and when you let go, the ball stops. Overall, a fantastic game for 3D ball game lovers!
Download Tower Ball blast for Android
Fire Balls 3D
Our second pick is Fire Balls 3D – a single-tap hyper casual game with amazing graphics that will keep you hooked for hours! So simple to control, easy to learn but truly hard to master. This game will harden your hand-eye coordination whether you want it or not.
When you start playing, you need to hold and make your dot fire forward. But be aware of those little strips of blocks that go around it that are moving around because if you shoot the obstacles, your shooted ball will be turned back. There are unlimited levels you can play as long as you want, moreover, you can choose to play 20 beautiful color themes. A nice 3D ball game overall without any doubt.
Dancing Road: Color Ball Run!
Another fantastic 3D ball game with cool design, amazing background sounds & music, and wonderful gameplay! You can play it on the music tile road with various trending genres from the best rhythm Piano to Guitar songs, Hip Hop, Pop, Kpop, Rock, and EDM. As well as, also frequently updated hit songs from top singers like Charlie Puth, Alan Walker, Sia, etc.
The gameplay is pretty simple, just guide the ball to match other balls of the same color while running on the track. Try collecting the coins and Gift Boxes on the way to unlock new treasures. It trains your eyes coordination when the ball suddenly changes color on the dancing road. Certainly, a great game to enjoy colorful gameplay and your favorite songs at the same time.
Download Dancing Road Color Ball Run
Color 3D Ball
Color 3D Ball is a new-style color block control game. It's free and easy to play and highly addictive, filled with colorful roads, color blocks, and realistic physics. The game begins with a running ball that you need to control, protect, and make the way to its home avoiding the different color types of obstacles.
There are colorful roadblocks are placed on the road, some of these roadblocks are harmless that you can push away, others that are colored you need to avoid otherwise you ride grinds to stop when it crashes into those color blocks. Just protect the ball with your finger while it's moving forward and does not touch other colors, that is it. Collect as many coins or gems as you can to improve the score and enjoy the colorful journey.
So, download and play the above 3D ball arcade games on your Android phone, play anytime anywhere, and enjoy your time.