There are many types of games that we can play on our smartphones and many of us only like to play classic arcade! So, if you are one of us, like to play and enjoy classic games, then this post might be helpful. Because here, we have listed the 4 best block breaker games for Android. So, if you have an Android phone and want to play brick blaster or block break or brick breaker games, then try these breaker bricks ball games right now and get entertained in classic-style!
Now, let's have a look at the games below before we start breaking bricks …
Ball Block Breaker – Breakout Brick Games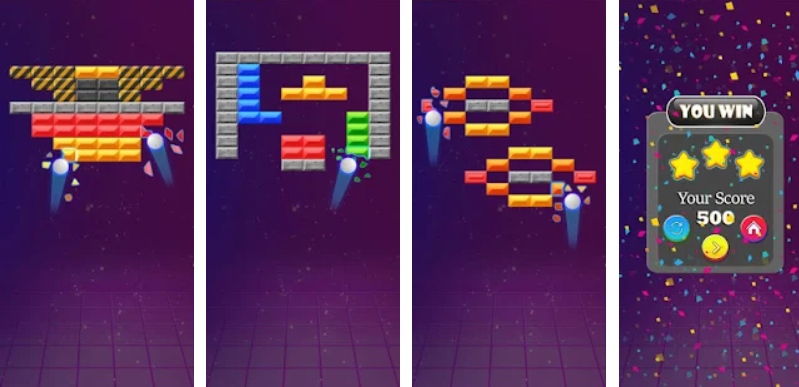 Our first pick Ball Block Breaker – Breakout Brick Game that's full of delight for any ball brick breaker games fan. It's free, fun, full of amazing in-game bonuses, and suitable for anyone who wants to have some lighthearted fun with a really delightful and exciting brick demolition game. Moreover, it's an offline game means, you don't any data or Wi-Fi connection in order to play it.
You Should Read About Who Are The Primary Users Of ERP Systems?
The gameplay is simple and straightforward like classic brick breaker games. You'll have to keep the ball bouncing by sliding the paddle at the bottom and the ball will bounce and break the brick wall. Once you finish breaking the entire brick wall with no bricks left to break, you'll move to the next level. So, try to keep the ball bouncing, break the bricks, and you'll be fine. If you fail to keep the ball on the paddle and it falls under, you'll lose. Overall, one of the best block breaker games to have unlimited fun breaking bricks for free!
Download Ball Block Breaker for Android
Block Breaker King
This is another block breaker puzzle game with an easy user interface and easy operation that anyone can enjoy easily. The game is like the classic Tetris game where you need to match blocks with each other not keeping any empty space between. Once one or more blocks matches, the blocks will break. That's it.
There are many stages in the game to play. The game supports multiplayer gaming so you can compete with other users. Besides that, it also supports the leader board, achievement function. and languages from 16 countries. Playable both offline and online, anytime at anywhere.
Download Block Breaker King for Android
Balls Blocks Breaker
Now it comes to our third pick — this block breaker game is designed pretty differently. Here you have to break bricks too but in a cool way. It's free, easy to understand, and play yet pretty challenging enough to get high scores.
After the game begins, you need to hold and move your finger to aim towards the bricks above and then release your finger to shoot balls! You'll have limited balls in the beginning and the number on brick is reduced by 1 whenever a ball hits it. A brick will be destroyed when its number will become 0. That's it. Moreover, you can collect balls with white rings to increase the armory. So, download and play block breaker games around with your aiming angle and enjoy!
Download Balls Block Breaker for Android
Idle block breaker
Idle block breaker — a simple and casual game with a twist of tower defense. The game is designed nicely and the gameplay is so satisfying. Merge armor of the same level to increase the armor ability and launch bullets to crush the blocks. The armor will automatically attack or you can manually control it by tapping the screen.
There are different types of blocks, each of which has different special attributes, also 50 different armors to choose from. Destroying a certain number of blocks will enable double attack speed. In the same way, after a certain period of time, there will be double attack power. Overall, a nice block breaker game to play on Android!
Download Idle Block Breaker for Android
So, just download the above block breaker games on your Android, play anytime you want, offline or online, enjoy classic taste again, and feel the satisfaction of breaking colorful blocks or bricks. If you have anything to share with us about block breaker or brick breaker games, let us know, we would be happy to hear from you.
Whenever you want to find out some interesting games to relax, just take a look at these best games ever listed here: pacman 30th anniversary, call of duty vanguard or playnet fun. In case you want to play with your children, you must try Kahoot enter game pin. Then using what meme to have a funny moment with your friends.